Products and Services
---
Experience the benefit of City Co FCU membership with our low rate VISA card.
Rates as low as 8.50% APR (Rates range from a low of 8.50% APR to 16.50% APR depending upon your credit worthiness).
No annual fee
No balance transfer fee
25 day grace period for payment convenience
Save money and enjoy the convenience of a City Co FCU Visa card. Apply today with the on-line link.
Loans




City Co Federal Credit Union offers a variety of loans to help you make your
dreams come true with CCFCU.
Home Equity
Lending up to 15 years at maximum of 80% of the Home Value. For more information or to apply, please download and fill out our application.


New and Used Car Loans
Thinking about that new vehicle? Need a bigger car for the family? Then call
or apply with City Co Federal Credit Union for our great car loan rates and
we'll get you cruisin' in style.

Unsecured Personal Loans
Based on your credit status, you may qualify up to $7,500.00 on your signature.

Share Secured Loan
Use your savings account funds to secure your loan while earning dividends
on your account.
Other Services - Electronic Transactions
Payroll Deduction
Direct Deposit
ACH Debit/Credit
Overdraft Advance/Courtesy Pay Program
It happens to the best of us. We unintentionally write a check for more money than we have in our checking account, forget to record an ATM withdraw, forget to note a debit transaction, or forget to note an automatic bill pay deduction. Whatever the reason, a check returned for insufficient funds (NSF) is both costly and embarrassing.
You can end all that with Overdraft Advance/Courtesy Pay in conjunction with your free credit union checking account. Below is the link for both the letter sent to our members and the application.
Better Choice Loans
Better Choice Loans accommodates small dollar, short term cash needs as an alternative to payday loans. The program requirements are:
Member of City Co FCU in good standing for a minimum of 60-days.
Provide a current pay stub.
Legally capable to sign a loan contract.
Maintain a deposit balance equal to 10% of the loan balance at City Co FCU for the loan's term.
Minimum loan amount - $200.00 Maximum amount $578.00
Terms: Rate 18.00% A.P.R. Maximum term 90-days Fee $20.00
A Better Choice Loan must be paid in full before a new Better Choice Loan can be approved.
Only 3-Better Choice Loans will be granted in any rolling 6-month period.

DISASTER RECOVERY INFORMATION
The Tornado in Moore, Oklahoma in 2013, Hurricane Sandy in 2012, or Hurricane Katrina in 2005; and so many other natural disasters has taught us all valuable lessons. Disasters can happen anywhere and your Credit Union can experience interruption in service from power outages, severe storms, fire, and terrorist attacks. Your Credit Union is taking a proactive approach to this potential problem. Therefore, in case of a disaster involving City Co Federal Credit Union, we are asking our members to check our website or our Facebook for further instructions, and/or listen to your television, radio, iPhones, or any other type of communication devises possible. We will make a public announcement to our members as soon as possible.
Regular Savings Accounts
A $25.00 initial minimum deposit is required which reflect your share of the
City Co Federal Credit Union, an interest earned account which is paid quarterly.
MEMBERS PERSONAL ACCOUNT PASSWORD
We are asking our members when they come into the office or when they call us, to speak with the MSR and setup their own Personal Account Password. By doing so, this will add an additional layer of security and will benefit both our member and the Credit Union.
Share Draft Checking Accounts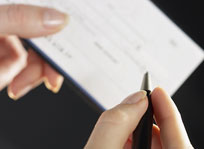 There are no minimum balances and no monthly maintenance fees. Stop by the credit union and one of our staff members will assist you in opening a account. There are many styles of checks to choose from.
DORMANT ACCOUNT FEE

Dormant accounts are of no advantage to you, our members, or to us. We are asking our members to please take a look at your statement and determine if you are using your account with us, and/or if you still want to maintain your account with City Co FCU. Your account must be maintained, even if it's not being used. A phone call to our office acknowledging the account, or a small deposit is all that is needed to remove the Dormancy status. As of 12/01/2013, we began charging a $10.00 monthly dormant account fee to accounts that have not had activity for at least two years or longer.
Ask us how you can use automatic transfers or payroll deduction to make saving painless and keep your account from going dormant. Even saving a little at a time can add up to a lot. Please call us or stop by the Credit Union office and we'll show you how.
It's time to pay for your purchases with the cashier, you have to write a check, but you need to show your Driver's License along with other information they require, can you Verify that information? Forget the hassle, use your ATM/ Debit card, it's quick, fast and convenient. It is accepted almost anywhere a VISA logo is shown, and best of all it comes right out of your checking account, it's not a credit card-it only looks like one. Also, any Dollar Bank ATM is FREE (no fee is charged).
Christmas Club Accounts
City Co FCU is pleased to offer its members Christmas Club Accounts. They are transferred to your savings account the first week of October each year and are automatically renewed each year. Plus, you have the option to withdrawal or transfer funds from the account at any time. There is no penalty for early withdrawal which is an added benefit for you should something unexpected happen. If you are interested in starting a new Christmas Club, please call us or stop by the office. We will be more than happy to help you achieve this either through payroll deduction or ACH. Christmas Club accounts are a great way to make your Holidays a little brighter.
Vacation & Special Share Accounts
There is no minimum balance required in these accounts And can be used for any
special occasion. These accounts also earn dividends quarterly.
AFFORDABLE HOME & AUTO INSURANCE



Discounts for credit union members.*
Rates guaranteed for 12 full months.
Convenient payment options.
Reliable service you can feel good about.
Broad coverage's to fit your lifestyle.
24 hour-a-day claims service.
Call for a free, no obligation quote.
For a FREE, no-obligation rate quote, call Liberty Mutual Insurance, toll free at 1-888-380-9287. Please be sure to tell them you are a member of City Co Federal Credit Union.*

Notice of Change - Funds Availability Policy Effective July 21, 2011, any checks deposited will be given at least $200 next day availability in accordance with our Funds Availability Policy. For additional disclosure information, please refer to our Funds Availability Policy available at all office locations.
Why throw away your money? Do yourself a favor and start saving today! As a Credit Union member, there's never a better time to save money on your wireless phone service. Do yourself a favor and start saving today!
10% off most regularly priced Sprint individual service plans
15% off most regularly priced Sprint business service plans
National rates with no roaming or long distance char
For this exclusive discount, tell them you're a Credit Union member. Ask to be attached to the NACUC_ZZM corporate ID. For individual or business accounts cal 877.728.3428 or click on www.sprintsave4cu.com or visit the nearest Sprint retail location.
SERVICES & BENEFITS
220 Grant Street
Pittsburgh, PA 15219
Hours of Operation:
Monday through Thursday: 8:30 am – 4:00 pm
Friday: 8:30 am – 5:00 pm

Contact Us:
Ph #: 412-350-5957
Fax #: 412-281-9158
Email Address: citycofcu@citycofcu.com
Automated Member Account Information – 1-800-983-9561

Detailed Website: www.citycofcu.com
Accounts Offered:
Share/Savings Accounts
Sub Savings Accounts
Holiday Club Accounts
Money Market
Share/Savings Term Certificates
Trust Accounts
Checking Accounts (Free)
Second Chance Checking
Full Family Membership
Member Services Offered:
Courtesy Pay Program
Overdraft Protection (for Checking Accounts from Savings)
Member Cash Operations
Same Day Phone and Mail Transactions
Home Banking
Mobiliti Banking & Deposits
E-Statements
Online BillPay & Popmoney
Online Check Re-Ordering
Visa Check/Debit Cards (No Annual Fee)
Visa Reloadable Debit Cards
Visa Credit Card Program (No Annual Fee & No Transfer Fee)
ACH/Direct Deposit
Payroll Deduction


Electronic Loan Applications
E Signature Loans (Electronic)
Signature Loans
New & Used Vehicle Loans
New & Used Motorcycle Loans
100% Share Secured Loans
Holiday Discount Loans – (12 Months)
Home Equity Loans
Better Choice (Short Term Loan)


Money Orders up to $1,000 @ $2.00 each
U.S. Postage Stamps
Coin Counter Machine
Visa Gift Cards @ $3.00 Each
Notary Public Service (Vehicles Not Included)


Invest In America – CU Member Discounts
CUNA Mutual Group Credit Disability & Credit Life Insurance
Liberty Mutual Home & Vehicle Insurance – 10% CU discount
TruStage Insurance – Visit Trustage.com
Available for:

6 Months

Interest paid/ posted quarterly

12 Months

Interest paid/ posted quarterly

24 Months

Interest paid/ posted quarterly

36 Months

Interest paid/ posted quarterly

Penalty for early withdrawal = 30 days interest

*Dividends are paid quarterly directly to you Certificate.

**All dividends and interest rates are subject to change without prior notice.




Your savings federally insured to at least $250,000 and backed by the
full faith and credit of the United States Government.
National Credit Union Administration, a U.S. Government Agency.