About Us
---
Since 1941, City Co Federal Credit Union has served the employees of the Allegheny County and now the City of Pittsburgh and their family members. We were organized to provide all of our members with a place to save and to borrow at reasonable and affordable rates.
To join City Co Federal Credit Union, you must be an Allegheny County Employee or a family member of persons who live, work (or regularly conduct business), worship, or attend school in, and businesses and other legal entities located in the underserved community of Pittsburgh, Pennsylvania.
"Once a Member, Always a Member," means if you leave your place of employment or any other required field of membership, as long as you maintain your minimum balance in your Savings Account, YOU are still a member and an owner. We look forward to serving you and your family!
Our credit union is a Not-for-Profit, member owned financial organization.
Our goal is to provide the best available financial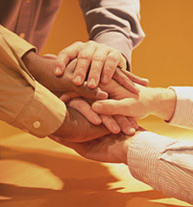 services in a personal,
confidential and convenient manner to meet our member's needs. We strive to maintain our credit union's long term financial stability, and to provide a variety of services at competitive rates to the membership.
Mission Statement:
City Co Federal Credit Union is a member owned financial institution whose Mission is to provide quality financial services to our members, in a personal, friendly and efficient manner, while maintaining financial stability.
City Co Federal Credit Union is a financial cooperative
owned and controlled by members and existing for the financial benefit of its
members. Its purpose is to encourage regular savings, promote thrift, offer loans at reasonable rates, offer services at fair and favorable rates and terms provide the best possible financial services to meet members' needs. The Credit
Union's goal is to foster the ideals of cooperation in our community and
through the Pennsylvania Credit Union League, to seek to maintain the
credit union's long-term financial stability and safeguard the assets of
members and to provide a working environment in which volunteers and
employees can strive toward excellence and achievement through
service to members.
2018/2019 Credit Union Officials
2018/2019 - BOARD OF DIRECTORS
Kevin McCarthy, Board Chairman


Eileen Wagner, Vice Chairman


Edward J. Kress II, Treasurer


Debra Lange, Asst. Secretary & Asst. Treasurer


Michael T. Mayer, Asst. Secretary & Asst. Treasurer
2018/2019 SUPERVISORY COMMITTEE
Edward J. Kress, Chairman


Robert J. Macey, Secretary


Amanda Aldridge, Member
Cookie Yoder, President/CEO